New tools will help forest industry protect migratory waterfowl
The Forest Management and Wetland Stewardship Initiative (FMWSI), a partnership between Ducks Unlimited Canada (DUC) and the forest industry, including Millar Western, has launched new reference materials to assist practicing foresters in minimizing operational impacts on waterfowl, their nests and eggs, also referred to as "incidental take".
The newly released resources comprise Forestry and Waterfowl:  Assessing and Mitigating Risk – Technical Report and the companion  plain-language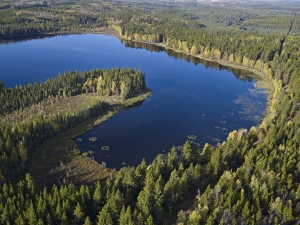 Practitioner Guide.  The Technical Report provides a detailed rationale and methods supporting the steps of the decision-making approach, while the Practitioner Guide walks forest practitioners through the decision-making process and shares migratory-bird best management practices, all in an accessible format.
"We, as forest practitioners, have a role to play in helping to sustain wetlands, which play a vital role in forest health," said Bob Mason, Millar Western's Chief Forester.  "What sets these tools apart is their practicality and accessibility — DUC has translated complex concepts into easy-to-use tools that will help our planning and operational teams make more informed decisions with respect to operating in  wetlands.  Not only will this help in maintaining healthy waterfowl populations but it also assist us in meeting our regulatory and certification obligations."
Both volumes can be downloaded for free from the DUC Boreal website; hard copies of the Practitioner Guide will be soon be available for purchase.
In addition to participating in FMWSI, Millar Western has also entered into a memorandum of understanding with DUC, to develop projects more specific to its operating area, including delivering wetlands training to Woodlands staff and developing best practices in boreal wetlands management.