Millar Western is part of a progressive, rapidly changing forest products sector that is a vital contributor to the social health, environmental sustainability, and economic vitality of communities throughout Alberta. We welcome the opportunity to share information about our work.
Tours and Classroom Visits
Public tours are conducted in the summer months through the Whitecourt Chamber of Commerce, which leads groups through forest products facilities operating in the Whitecourt area, including Millar Western's pulp mill. Contact the
Chamber of Commerce
for more information.
Upon prior arrangement and providing operational schedules allow, Millar Western can accommodate industry, educational and community groups who have an interest in learning more about our pulping processes and environmental technologies. To arrange a visit, contact us.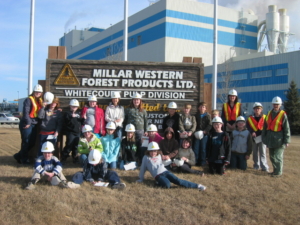 Millar Western supports Inside Education™, a not-for-profit society providing in-class and in-field resources and experiences focused on forests, water, wildlife, energy, climate change, agriculture, and more. This organization is an excellent resource for educators looking to expand their knowledge,  and their students exposure, to environment and natural resource topics in Alberta.
Huestis Demonstration Forest
Located just outside Whitecourt, the Huestis Demonstration Forest (HDF) is an open-air forest education facility where public visitors learn about natural resources and their stewardship through self-guided walking and driving tours, and where students and teachers participate in organized, field-based education programs. The HDF is supported by a large partnership of industry, community, government, academic and other stakeholders, including Millar Western. Since 2011, on-site forest education programming has been helping meet science, social studies and careers curriculum needs of students and teachers throughout the region.  Teachers can learn more about these highly popular,
FRIAA
-funded, HDF Partnership-supported,
Inside Education
-delivered field-trip and professional development programs
here.