Grow with us.
Millar Western has been in operation for more than a century. We stay successful by upholding our core values of safety, integrity, honesty, trust and respect. We hold ourselves to high standards in all areas of our business, striving to build positive, long-term relationships with our employees, customers, suppliers, and neighbours. Together, we have created a safe, respectful, collaborative, and enjoyable work environment — one that provides opportunity for growth and advancement.
We are part of the fabric of our communities.  We invest in causes that help to improve the quality of life in the area.  We consult on plans and projects that may impact residents and welcome input on how we can do better.  We take seriously our responsibility to protect our natural resources for the health and enjoyment of all today, and for the benefit of future generations.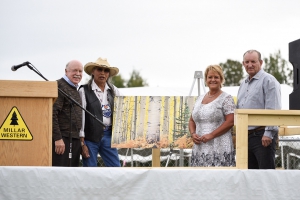 If you share our values and are looking to join a respected, long-standing company that puts people first, consider Millar Western.  Your career starts here.