Millar Western's pulp mill earns safety awards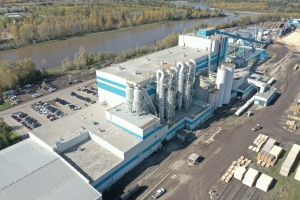 Congratulations to employees of Millar Western's pulp mill in Whitecourt, Alberta, who today received two awards marking their exceptional safety performance. The operation was recognized with the Alberta Forest Products Association award for Outstanding Achievement in Health and Safety for 2018-2020, in the sector category of pulp and paper. In addition, the mill was presented with the AFPA's prestigious President's Award for Health and Safety. The President's Award is granted to the member operation demonstrating the industry's top performance across all sector categories, for the previous three-year period.
Over the past 15 years, Millar Western's pulp and lumber operations have garnered a total of 10 AFPA awards for excellence in safety performance, including annual and multi-year awards for our Whitecourt pulp mill, Whitecourt sawmill, and Fox Creek sawmill. This is the first year the company has received the President's Award.
The awards presented today are a tribute to the hard work done every day by all employees of Whitecourt Pulp, to keep themselves and their co-workers safe on the job, as reflected in the mill's current record of 895 consecutive days without a lost-time accident. That commitment, shared across all company operations, is essential:  it means Millar Western families are welcoming their mom, dad, son, daughter, or partner home from work safe and sound each day – and that is our most important measure of success.
The AFPA health and safety awards are traditionally presented in person, at the association's annual general meeting. Under pandemic conditions, this year's award recipients in all industry categories were announced with the release of the video linked here.  Kudos to all award winners!