Millar Western's 100th anniversary recognized in Alberta Legislature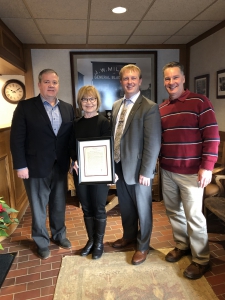 In 2019, Millar Western is marking its 100th anniversary of incorporation. West Yellowhead MLA Martin Long recognized this milestone in the Alberta Legislature on November 26, noting the centenary as a tribute to the vision of the company and the sustainability of Alberta's renewable forestry sector.  We thank the Legislature for this honour, and MLA Long for his kind words.
Pictured here, MLA Long (second from right) dropped by our Edmonton office December 10 to present a framed copy of his statement, gratefully received by Brian McConkey, Janet Millar and Peter Andrews.
See Mr. Long make his statement in the Legislature:
Video download
Youtube link