Millar Western Pulp recognized for outstanding work in risk management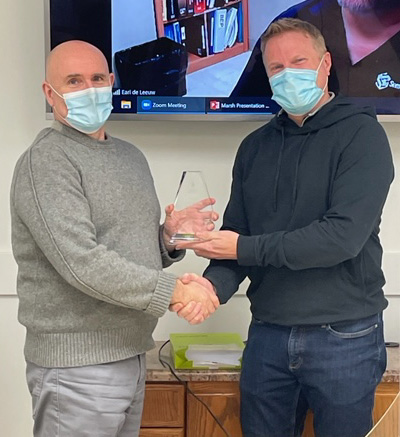 FM Global is an international insurance provider that insures and provides loss prevention services to corporations around world. Their clients include Millar Western, where they insure all sites.
Last week, during a scheduled trip to the Whitecourt pulp mill, FM Global representative Michael Key made a surprise presentation, honouring the mill's outstanding record in risk management by awarding its highest rating, of "Highly Protected Risk."
"FM Global is pleased to recognize the Whitecourt pulp facility as an HPR mill," said Michael. "This is a recognition of the facility's ongoing commitment to property loss prevention and achieving the highest industry standards for property protection."
Of the 243 TMP mills FM Global insures internationally, Whitecourt Pulp ranks number 5 in the company's risk quality benchmarking system. The mill's performance is a tribute to the commitment shown by all staff to safety, preventive maintenance and housekeeping.
Well done, Whitecourt Pulp!