Len Bourdin honoured with OHS Canada Lifetime Achievement award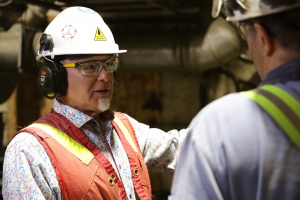 Millar Western's Len Bourdin has dedicated his entire professional career to enhancing employee health and safety within our company and throughout the forest industry in Alberta and across Canada. We are proud to share that Len's commitment to excellence has just been recognized with the OHS Canada Lifetime Achievement Award.
As Director, Corporate Health, Safety and Risk Management, Len has worked tirelessly to ensure the right systems, procedures and attitudes are in place to protect our people and mitigate risk to our business. He is a passionate safety and risk management professional who has played an integral role in the development and success of Millar Western's Journey to Zero safety focus. Outside the company, Len has been a steadfast advocate of safe and healthy work environments, playing a key role in the development of the AFPA Health & Safety Training program, as an original author behind Alberta's Partnerships in Injury Reduction program, and as a multi-term president of the Industry Task Force Association providing input to the Workers Compensation Board. He is highly regarded by peers for his knowledge, skills and experience, and often called upon to represent industry in educational panels, consultation processes and WCB recruitment teams.
Thanks, Len, for all you do to ensure everyone at Millar Western returns home safe at the end of each shift. And, congratulations on this well-deserved honour!