A great day at the Huestis Demonstration Forest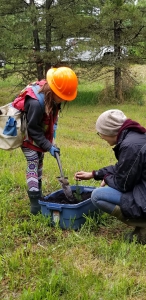 Millar Western and its partners were happy to see the Huestis Demonstration Forest launch its 2018 forest education season by hosting a field day on May 31st for more than 250 Grade 4 students from the Alexis Nakota Sioux Nation School in Glenevis and the Whitecourt Central and St. Joseph schools in Whitecourt.
During the day, the 9- and 10-year-olds had the chance to play an active role in reforestation work being conducted at the Huestis forest, first taking a quick lesson in silviculture techniques, then hoisting shovels and getting down to the work of planting seedlings in a previously harvested cutblock, all under the guidance of professional foresters.  The students also cycled through a series of activity stations, learning about forest ecology, outdoor and fire safety skills, medicinal plant use and other traditional knowledge, and forestry science and resource management, all while having fun with treasure hunts relay races, tree crafts and games.  On hand to show support for forests and forestry were Woodlands County Mayor Jim Rennie and Town of Whitecourt Deputy Mayor Tom Pickard.
Tim McCready, Millar Western Forestry Superintendent, said the field day offered the chance to demonstrate an essential part of the work conducted by Alberta's forest industry. "Every year, we plant many millions of trees, but few people have a chance to see the results of our work up close.  Today, we planted about 1500 seedlings, and each one will be special for the kids here today, who can come back to Huestis to visit their trees and see them grow over time."
The Huestis Demonstration Forest (HDF) is a forest education site located 12 km northwest of Whitecourt on Hwy 32. Site programs are supported by the HDF Partnership: forest companies Millar Western, Alberta Newsprint Company and West Fraser-Blue Ridge Lumber; the Alberta government departments of Environment & Parks and Agriculture & Forestry; stakeholders including the Alexis Nakota Sioux Nation, Woodlands County, Whitecourt Trailblazers, Northern Gateway Public Schools, University of Alberta, NAIT, Alberta Forest Products Association and Work Wild; and Inside Education, a not-for-profit society that conducts environmental and resource education at Huestis and  locations across the province.