Investments of more than $30 million will modernize and strengthen our Whitecourt operations
Over the course of 2019, Millar Western will be completing capital projects at our Whitecourt mill site with a combined value of more than $30 million.  These investments will modernize our operations, enhance our competitiveness, and help to secure the 1,700 direct and indirect jobs we generate in the region.  The projects extend across the lumber, pulp, log handling, and bioenergy areas of our business:
Planer Upgrade at Lumber Operation: concluded in early April, the project involved modernization of the front end and trim line at the planer mill, and implementation of a fully automated lumber-grading system that will deliver better returns and lower costs.
Crane Replacement in Log Yard: a new, larger capacity, softwood portal crane will be installed in late summer and is expected to be operational for the start of the 2019 winter logging season.  To support the new crane, a new rail bed is also being constructed.
Bale Press Replacement at the Pulp Mill: the Line 1 bale press was installed in the late 1980s, and its performance has greatly exceeded its original expected lifespan.  Installation of a replacement press will be take place during the annual maintenance shutdown in September.
Scrubber Tank Replacement at the Bioenergy Plant: the first of two carbon steel H2S scrubbers at the bioenergy plant will be replaced with a fiberglass-reinforced plastic tank, to enhance longevity. The installation is expected to take place in late 2019.
As well as securing existing jobs and economic activity, these projects will create new temporary employment during their construction phases and generate economic spinoffs for local businesses such as hotels, restaurants, fuel suppliers, and retail outlets.  These investments reflect Millar Western's strong confidence in the future of our Whitecourt operations and in the sustainable forest industry.
While these projects are underway, area residents may notice more trucks on area roads due to delivery of equipment and materials such as aggregate.  We wi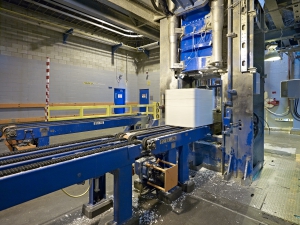 ll also be operating a summer log-haul program, transporting logs from satellite yards to our Whitecourt site to keep our mills running during crane work. 

Safety is a core value at Millar Western, and we will work closely with our suppliers and contractors to ensure safe and courteous vehicle operation.  We will also be working to coordinate log, material and equipment deliveries to our mill site in a way that reduces roadway congestion as much as possible.  If you see any concerns, please contact us at 780-778-2221 or mwfp@millarwestern.com.
We also ask your care and patience around trucks hauling big loads: be sure to give them plenty of room, especially when they're turning, and stay in the driver's line of sight. Working together, we can make sure everyone stays safe.