Having worked for decades in areas where natural landscapes and populated areas converge, and where interests and priorities may sometimes diverge, Millar Western understands the importance of maintaining open communication with our neighbors and building strong relationships with Indigenous peoples on whose traditional lands we operate, and with local stakeholders.  To foster dialogue, we have established several consultation mechanisms:
Open HouseS
Each year, we hold open houses to provide Indigenous communities, forest stakeholders and the public with an opportunity to meet staff, provide input into draft annual woodlands operating plans and discuss forestry issues. Dates, times and locations are advertised in local newspapers and on this website, so visit regularly or
contact us
.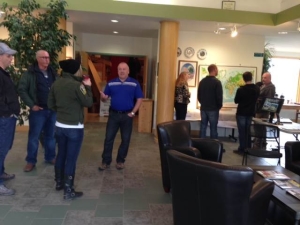 Public Advisory Committee
Millar Western's PAC is composed of representatives of stakeholder groups including towns and counties, recreational organizations, other industrial forest users, contractors, and area residents. As well as monitoring the company's environmental performance, the group advises on forest management issues, reviews operating plans, and discusses a wide range of topics related to our forest and manufacturing operations.
Click here to view a list of the committee members
.
Environmental co-stewardship committee
In 2004, Millar Western signed a Forestry and Economic Development Agreement (FEDA) with the Alexis Nakota Sioux Nation. Four years in the making, FEDA formalized and expanded upon past efforts by Millar Western and the Alexis Nation to work together in the responsible development of forest resources in areas where the parties have shared usage rights and traditional ties. In 2009, the agreement was renewed for a further 10-year period.  A key feature of the Alexis/Millar Western FEDA was the creation of the Environmental Co-Stewardship Committee, established to foster ongoing dialogue on issues including land use; forest management; and training, contracting and employment opportunities. The ECSC also disburses awards, funded by the company, under the Alexis/Millar Western Scholarship Program.